As chiropractors, we provide many gentle treatment options for our patients.  Class IV laser therapy  is one of the most gentle treatment options. Injured patients, that are weak and vulnerable,  most appreciate class IV laser therapy as a very gentle treatment alternative to reduce pain.
During the laser therapy, most patients report a slight soothing warmth on the area of treatment or laser exposure.  Some of our patients report some type of relief or reduction in the pain after the first laser therapy session.   Comparable to other therapy modalities, laser therapy does not help every person.   Some people report no relief or change in their condition after a laser therapy visit.
Based on our clinical observation, patients, who experience some improvement after the first visit, have a higher probability of further improvement of symptoms with additional laser therapy treatments.
Due to the higher power of class IV laser, the treatment time is shorter than other classes of lasers.  Our laser therapy treatment time varies from 1 to 10 minutes based on the laser manufacturer guidelines per area of treatment.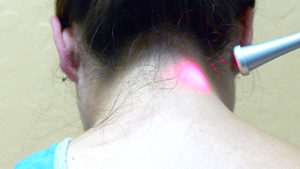 Laser Therapy for Neck Pain
How does laser work?
As the powerful laser photons penetrate the deep tissue, they cause photobiostimulation of cells. The photons penetrate the cell membrane mitochondria that produce ATP or energy in the cell.
As more laser photons are accepted by photo-acceptor of the  cell membrane, more ATP or cellular energy is produced that can normalize cell function causing pain relief.
The photobiostimulation of laser therapy area can lead to increased the cellular energy,  increased analgesia or pain relief, increased anti-inflammatory agents and enhanced healing process.
Would you like to find out if laser therapy can help you?
Call us to schedule an office visit.